The Ozimals Team headed up by Candy Cerveau and Malkavyn Eldritch are ready to launch the Ozimal Bunnies! The new Ozimals sim is ready and they did NOT disappoint when it came to the build. Much like their wonderful sim The Magic of Oz, Ozimals is a land of whimsy and absolute beauty, the perfect place for Bunnies to live and thrive. Humans can have a grand time there as well!
Pictured above is the Main Store where you can purchase all sorts of goodies. (More on that below.) You can also join the update group and see the bunnies on display there.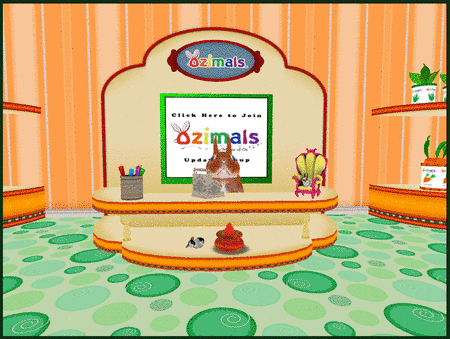 As you can see the Sim is gorgeous! It has four different areas you can TP to. They are: Puck's Glen, Azureglow Marsh, Bellhedge Haven, and the Marketplace.

Below I have a Tank top set that I purchase in the Main Store by SilentSparrow. She has PJ's and some other really cute items there you need to check out.


In the market place I purchase the world's smallest bunny. You pay 25L and take a chance at a variety of different versions. I am wearing the earrings and the snot bunny below. (I removed the snot lol) They are hard to see because ...well they ARE the world's smallest bunnies!
Friday, January 8th from 1-8 slt Ozimals is having an open house so please, please go check out this awesome new sim for yourself. From 6-9 slt they will be having a dance at Pucks Glen to get the weekend party started. Then on Saturday at 12 noon the big moment will finally arrive where we all can dash in and buy our bunnies for real! They will also be having a Great Carrot Grab all weekend so you definitely don't want to miss out on any of the festivities. You can get to all the fun
HERE
!